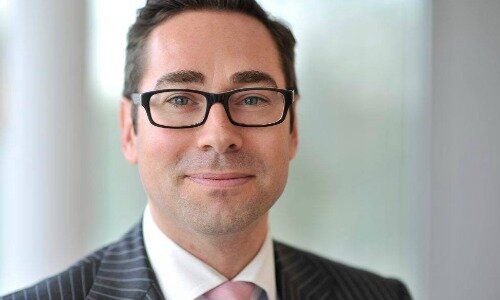 UPDATE: This original article was so well-received that I reached out to Mike Baur again to see if he would be interested in doing another article with us. He generously agreed to lend his startup and finance expertise to answer how FinTech is the solution to many of the antiquated problems in the finance world.
Reliable statistics estimate that 80% of businesses fail within the first two years while 96% will collapse in ten years. This means that for your business to succeed you as the owner needs to spend time working on your business instead of working in your business. Mike Baur, the CEO and Co-Founder of Swiss Startup Factory is an epitome of how to make a startup wildly successful. This innovative, spirited and creative entrepreneur spent close to twenty years making strides in banking.
Born in Schaffhausen, this modern pacesetter grew up in Freiburg and is now living in Zürich. Baur says he has always been an entrepreneur at heart. He graduated from the University of Rochester with an MBA and also has an Executive MBA from the University of Berne.
Banking Career
As a renowned banker, Mike received the rare honor of advising some of the wealthiest Swiss people on taking advantage of profitable investment opportunities. Younger than typical advisers, Baur was only in his 20's at this time! He went on to receive a rarefied status in Swiss banking which at the time was arguably the most coveted status in the Swiss Banking industry. His hard work and determination enabled him to work his way up from a mere commercial apprentice at UBS in Friborg to an executive board member of the highly reputable Swiss Private Bank.
While working as an intern at UBS, he performed impressively and quickly rose up the ranks. His ambition saw him graduate quickly and in 2008 he was appointed Managing Director of Private Banking at the Zurich branch of UBS. He remained at the bank for 8 years when he caught the attention of the CEO of Clariden Leu, a merger of several successful private banks, noticed his exceptional talent and extensive experience. He hired him as the regional manager for the Zurich region.
Mr. Baur left UBS just a few weeks before it plunged into financial turmoil. This did not deter him from thriving in his new position. He instead made the best out of the situation by recruiting former UBS employees and used them to garner more business for Clariden Leu.
Mike Baur's Exit from the Swiss Banking Industry
Although Mike admits that he loved working in the banking industry, he goes on to say that he had to leave so that he should satisfy the entrepreneurial itch he simply could not scratch away. His strive to make it in business was not the only reason he left banking, he also attributes his exit to what he brilliantly terms the 'big cat syndrome'. According to this former banker, most advisers and managers in the Swiss banking industry are reluctant to adapt to economic changes and are also not proactive enough making them powerless and susceptible in the face on any financial crisis. The 'big cat syndrome' makes them have the misguided notion that they know everything and are in control of what's going on while in reality they are vulnerable to any slight change in the economic environment. He gives an example of how banks are resistant to adapt to digital transformation.
Mike Bauer Delves in Entrepreneurship
Despite his whirlwind success in banking, he made the difficult choice to switch careers and finally pursue his passion in entrepreneurship. Although the technology industry was suffering significant challenges, he decided to take a risk by starting up the Swiss Startup Factory with his partner. Years in banking made him conversant with the challenges that entrepreneurs tackle on a daily basis. His company, the Swiss Startup Factory is an organization that helps entrepreneurs to make strategic and well-thought-out financial decisions. Aside from helping entrepreneurs do financial planning, the Swiss Startup Factory also offers mentor opportunities and intense coaching to aspiring entrepreneurs who are either starting out or trying to expand their companies.
The success of Baur's company can be largely attributed to the loyal customer base he has built since 2014. Many entrepreneurs the Swiss Startup Factory has worked with have made big strides in the business world. These entrepreneurs have not only expanded but have also made profitable financial investments that are gradually paying off.
According to Mike Baur, the twenty years he spent in banking equipped him with sufficient knowledge and the right set of skills to thoroughly understand and navigate his current industry. Since most of his banking career involved collaborating with business gurus and dispensing financial advice, he feels right at home running a company that helps entrepreneurs develop indispensable financial skills.
Swiss Startup Factory is now a crucial figure that is contributing to the success of startups and quick expansion of businesses. Mike's company is currently the Number 1 privately financed and independent early stage startup accelerator in Switzerland.
Lessons Every Entrepreneur can Learn from Mike Baur
While Baur makes it very clear that it was not one or two things that made his career successful, he has extrapolated the following advice as the most advantageous and actionable words of wisdom he followed on his path to success.
1. Make things happen, nothing is coincidental in business
According to Mike, his banking career was not coincidental. He ventured into banking because it was the best place he could learn about investment and financial management. The knowledge he acquired in his career helped him gain skills in investing and equipped him to start his own company. If you are a budding entrepreneur, how about choosing a career that helps you learn more about the industry you want to venture into. Purposeful experience works to your advantage.
2. A successful entrepreneur needs to be adaptable
Baur left banking because the industry is not willing to adapt to the changing socio-economic environment. He says that when he started out, he was a team player and has always had a strong willingness to learn from colleagues and even competitors. The next step was to demonstrate a sharp commercial acumen that helped him develop an innovators mindset. This helped him create a unique idea that was not only relevant but also helped survive despite consistent transformation in the business environment. Finally, when you begin your own company, you need to have an eye for the needs of your clients. This will make you transform one time customers to loyal consumers. Mike attributes Swiss Startup Factory's success to personalized attention to customer needs.
3. Be willing to take career risks and face setbacks to win big in the entrepreneurial world
Going by Mike Baur's career it is clear that entrepreneurship is not always linear. You have to take advantage of opportunities as they arise. Becoming an entrepreneur is more like a war where your master plan can get ripped off on first contact. If opportunity knocks, grab it because it rarely knocks twice. To be successful, you will need to emulate Baur's attitude of flexibility and open-mindedness.
But it's not all business for Baur. In his free time, Mike takes his time to mentor Swiss youth on entrepreneurship. He believes that giving young people a chance to expound on their ideas not only can result in successful businesses, but can give youth an opportunity to hone their abilities and expand their career horizons.
To listen to some of Mike Baur's Ultimate Tips for Startups, check out the YouTube video below: